Clifftop Club Resort, Auli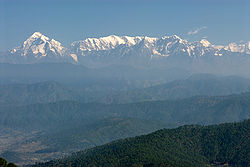 Welcome to "Cliff Top Club", a high altitude adventure resort, located in the Garhwal Himalayas of the northern Indian state of Uttaranchal
Clifftop Club at Auli is located at an altitude of over 10,000 feet in India's most scenic location amid the snow clad Himalayas. The resort provides a 270 degree clear view of the snow covered Nanda Devi range (the highest in india and third highest in the world). Other ranges in sight include Dronagiri, Kamet, Trishul, Neelkanth, Mana, and Mukut . They belong to the snow-line ranges which are covered with snow all round the year.
Clifftop Club Resort Highlights
Clifftop Club is located at over 10,000 ft above sea level. Excellent ski slopes and state of the art ski lifts have placed Auli as an important destination for skiing and snow sports.
SkiShop at Clifftop Club
The National Winter Games were conducted in Auli this year (in 2007) and the next year will see a lot of infrastructural development in view of the SAF Winter Games to be conducted here.

Snowsports, Clifftop Club
Clifftop Club provides an uninterrupted 270 degree view of Nanda Devi and adjoining ranges. A short trek takes you to Gorson Reserve Forest where you can revel in the magnificent sunrise and views and experience walks in dense alpine forest terrain.
The exciting ride in a cable car from Joshimath to Tower number 8 is the highlight of your arrival at the resort. Magnificent views of snow-clad peaks and vast open expanses of snow or grass covered slopes add to the thrill.
Adventure seekers can also avail the open chair lift ride from the government run GMVN property to tower number 8 or 10 (Gorson Top).
Gorson Reserve Forest is located off Tower number 10, which can also be accessed by a short trek up the slopes. Magnificent views of sunrise can be enjoyed here. A short walk in the dense alpine forest takes you to Chhatrakund, a frozen lake.
You can soothe your tired muscles after a trek to Tapovan by bathing in the hot springs there.
A day trip to the holy shrine of Badrinath can be made possible if one rises early to avail the first gate of departure at Joshimath. The road from Joshimath to Badrinath is a one-way drive, being narrow, steep and treacherous. A convenient "gate system" regulates up and down traffic to and from Badrinath. Many elite pilgrims to Badrinath prefer to stay at Clifftop Club, Auli and make a day trip to the temple by car only to return to Clifftop Club to soak in the ambience of the bonfire nights overlooked by Nanda Devi and adjoining peaks.

July to September sees trekkers to the Valley of Flowers making stopovers at Clifftop Club to experience the luxury of lavish cuisine and luxurious accommodation with our pampering to end the trek on a high note.
Amenities and Services:
- 43 spacious, well furnished, luxurious rooms with magnificent views
- A choice of studios, one bedroom and two bedroom family suites
- Rooms equipped with carpeting, comfortable beds, sofas, heaters, wardrobes, side and coffee tables, seating, storage chests, partial kitchenette, refrigerator, cable TV, intercom, spacious bathrooms equipped with modern tubs and fixtures
- Multi-cuisine dining with a delectable spread for breakfast, lunch and dinner
- Indoor restaurant /outdoor decks
- Bar opening soon
- Daily bonfire entertainment evenings with games, music and dance
- Evening barbeque snacks on request
- Indoor games room-TT, carom, board games and outdoor games-cricket, volleyball
- En suite oil massages on request
- Special packages for honeymooners
- Specially tailored itineraries/activities for schools and corporate groups
- Own ski equipment and instructors
- Pick up and drop service at actual rates from Haridwar/Joshimath
- Trekking guides for short treks and for Valley of Flowers
Adventurous Escapades:
- Hiking/Trekking/Nature walks
- Organized Mountaineering, Rock Climbing
- River Rafting (seasonal)
- Organized Pilgrim Tours
- Jungle Camping
- Ski School (Trainer/Equipment/Porter)
- Mountain Bikes available
- Cross-Country Skiing (Nearby)
- Downhill Skiing (Nearby)
- Fishing (16.0 miles)

Accommodation
Studios: 25
One bedroom unit: 16
Two bedroom family suite: 2
Room type

AP Plan (Breakfast, Lunch & Dinner)

Luxury studio
Rs. 11,000/- + 5.5% tax per night
Luxury Suite
Rs. 15,400/- + 5.5% tax per night
Extra
Adult @ Rs.3000 AP
Child @ Rs. 2000 AP
Luxury Tax
5.5% tax
Supplement for Nanda Devi Peak Facing room @ Rs. 1000 per night
Rs. 2500/- per person for Xmas / New Year supplement (25th and 31st Dec)
Rs. 1200/- per child for Xmas / New Year supplement. ( 25th and 31st Dec)