Corbett Elephant Safari Tour Package
Duration :
08 nights & 09 days - Nov to April
Destination :
Delhi - Corbett National Park - Domunda - Lehachaur - Rathuadab - Vatanvasa - Dhikala - Corbett National Park -Delhi
Detailed Tour Itinerary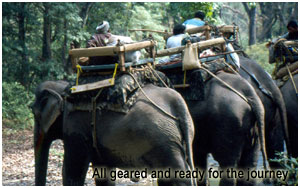 Day 01: Delhi - Jim Corbett National Park
On arrival met at the airport and transfer to Delhi by surface ( 7-8 Hrs ) Upon arrival, check in at the wildlife resort rest of the day, Birding at river KOSI. Evening briefing about the safari. Overnight Stay at the resort.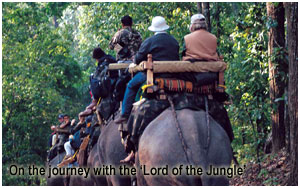 Day 02: Jim Corbett national park - Dugradevi Gate - Domunda
Transfer by jeep to Durgadevi Gate, From gate, be on elephant to Dumanda On safari to domunda some bird species like Great hornbills, Orintal Pied Hornbills, Brown Fish Owl, Tawny Fish Owl, variety of Wood Peckers,Oriols, Minivets and Drongos may be seen. Animal life includes Spotted deer, Sambhar deer,Wild Boar,Hog deer.Leopard and Tiger Overnight camping at Domunda close to Ramganga River.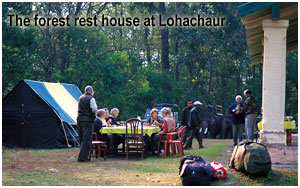 Day 03: Dumanda / Lehachaur:
You may wake up to the listening of alarm calls by Spotted deer as a tiger may be close in the forest. After breakfast, Start safari to Lehachaur Over night at Lehachaur room and Camping
Day 04: Lehachaur / Maidavan / Rathuadab
Start after early breakfast,The elephant through the thick forest Will enter the valley MANDAL,The most scenic valley. The Mandal river follows till Maidavan,stop for lunch.After lunch.Safari till Rathuadab. Overnight at rooms and camps.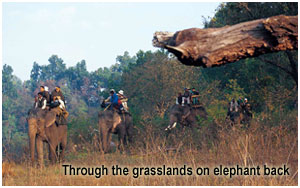 Day 05: Rathuadab / Vatanvasa
Safari after breakfast till Mundiapani, Lunch at Mundiapani,continew till Vatanvasa. Overnight at Vatanvasa ( Camping ).
Day 06: Vatanvasa / Dhikala
Safari till Kanda,Stop for lunch then to Dhikala Several opportunities to view wild life as you go Through territory of Tigers and other animals.Sightings of wild Elephants are also possible. Overnight at Forest rest house,Dhikala.( rooms ) Here ,at Dhikala leave Elephants.
Day 07: Dhikala:
AM: Game drive in Dhikala area by jeep. PM: Game drive by jeep. Overnight at Dhikala.
Day 08: Dhikala - Jim Corbett national park
Drive back to Quality Inn,enroute stop at High bank to view Fish eating crocodiles ( Gharial ). And Marsh Crocodiles. Also to spot Palls fish eagle,Grey headed fish eagle And White tailed eagle. Packed lunch provided. Continue drive to Quality Inn. Overnight at the Resort.
Day 09: Jim Corbett national park - Delhi
After early breakfast, Transfer to Delhi and deaprture transfer to the international airport time to catch flight for onward destinations.
Tour Ends and Sweet memories remain forever……!!
Detail of Corbett Elephant Safari Tour:
Elephant Safari in Jim Corbett National Park is an exclusive safari on elephant back through Corbett Tiger Reserve, India's first and one of its finest Tiger Reserves. A visit to Corbett national park is incomplete without an elephant safari, In Corbett an elephant can go to the places where a jeep can't. On elephant you can go deep into the mysterious thick forests, Valleys and the rugged trails of the national park and get very closed wildlife without scaring the animals away. Elephant safari is an exclusive safari on elephant back through the famous corbett national park, india. India's first and one of its finest tiger reserve. Elephant safari helps the visitor to travel through such difficult terrains where even jeeps cannot venture. During your elephant tour ride, you can watch the wild elephants taking bath in the water ponds. The photographers can easily take pictures of the wilds while riding and as a souvenir of the amazing journey into the wilds, take one with the elephant too. The elephant back safari tour is a great combination of elephant and jeep safari to observe wildlife, the main attraction being riding the Pachyderm for a whole week. The elephant safari in corbett tiger reserve starts from the Durgadevi gate of the corbett park and continuous along the northern boundary ending at halduparao on the northwestern boundary of the corbett tiger reserve. We encourage our guests to travel well prepared, this ensures that we are able to organise their logistics with ease. To ensure this all transport and back end logistics is done on 4WD jeeps that are best suited for the rugged terrain of Corbett. The abundant Airborne Species, the mysterious wild and the picturesque valley come together to offer a romantic hitherto unseen, unheard or untold. To enhance this unique experience an English speaking naturalist accompanies you through out your trip.
Corbett is also a bird watchers paradise and has a bird count of over 600 bird species