An enchanting tiger reserve, Dudhwa National Park is located in the Himalayan terai in Lakhimpur, Uttarakhand India. Spread on 498.29 square kilometers of Himalayan terrain, the jungles of Dudhwa National Park are a delightful medley of marshlands, interspersed with Sal jungles, wetlands and massive grass patches.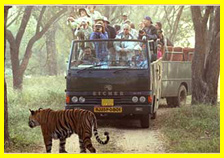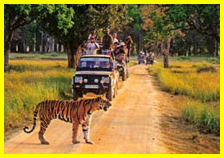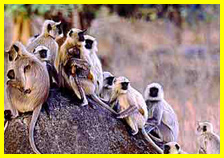 Set out on excitement filled elephant safaris and course tiger trails accompanied by experienced jungle guides on a Dudhwa National Park wildlife tour.
See minivets, woodpeckers, owls, barbets, storks and sarus cranes on a Dudhwa National Park safari.
The park has a considerable population of swamp deer, apart from other Himalayan wildlife. Records indicate that of the 4,000 barasinghas living on the Earth's surface, around 2,000 live in the forests of Dudhwa National Park in Uttaranchal India.
Dudhwa also has a considerable population of tigers, cheetahs, hog deer and other animals. So come and experience the wonders of this exotic green forest, spot flitting dragonflies with their paper thin wings glistening in the golden sunrays and feel one with a un spoilt natural land aglitter with nature rich splendors.