Uttarakhand Paragliding Tour Packages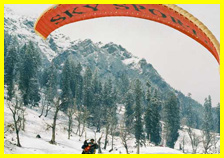 Uttrakhand Holidays provides paragliding packages Specially in Pithoragarh (Uttaranchal).
In around Pithoragarh the scope of Paragliding is unlimited. It is one of the most famous place for paragliding in India.
We offer following packages for the paragliding course in Pithoragarh :
| | | |
| --- | --- | --- |
| Package | Duration | Charges Per person |
| PRILIM | 3 days | Rs.3550/- |
| BASIC DAYS | 5 days | Rs.5750/- |
| INTERMEDIATE | 5 days | Rs.8750/- |
| ADVANCE | 7days | Rs.9750/- |
Package includes :
Above rates includes fooding & lodging in our base (with three star facility) on room sharing basis. Transportation to the flying site and back. Equipments and training Instructor, first aid etc.
We also provide trailer made packages, group bookings and student packages for paragliding tours in India.
About Pithoragarh
One of the most striking regions in the hills of Uttaranchal is Pithoragarh, Kumaon's easternmost district. The district headquarters, also called Pithoragarh, is wedged in between Nepal and Tibet, in the tiny Soar Valley of the Lesser Himalayas. The valley is flanked by four hills - Chandak, Dhwaj, Thal Kedar and Kundar - and is dramatic in its beauty.
Pithoragarh is in the heart of adventure country. In ancient times, the town had as many as six passes into Tibet, and it is still on the sacred Kailash-Mansarovar trail. Treks to the Milam and Namik Glaciers are kick-started here.
A number of adventure sports are possible in the region and there are private operators and camps that will organize them for you. Hang gliding, paragliding, trekking, skiing, canoeing, river rafting and fishing escapades await the audacious.
For the nature lover and wildlife enthusiast, there are hikes through Pithoragarh's thick forests where you can spot snow leopards, musk deer and peafowl. The rolling meadows surrounding the town are soft with velvet grass and the scent of wild flowers - lovely for a lazy day in the sun!
Pithoragarh was the medieval bastion of the Chand rulers, who were great builders of temples. Many of them lie in ruins, but pilgrims still visit the others and festivals are celebrated here in a big way. Visit the Kapileshwar temple, an ancient cave-temple dedicated to Shiva; the Kamaksha temple; and the Kailash Ashram.
The Mostamanu is a famous temple near Chandak, 7 km from Pithoragarh, from where you can get a spectacular view of the snowy Himalayas - the peaks of Nanda Devi, Panchuli and Trishul. A 29 km trek uphill from the Soar valley takes you to Dhwaj and the temples of Shiva and Parvati. Thal Kedar, 16 km, is another pretty spot with Shiva temples where there is a grand Shivratri celebration each year.
Getting there:
Pithoragarh is 503 km from Delhi, 330 km from Nainital, 212 km from Kathgodam, and 150 km from Tanakpur. Buses and taxis are available from Kathgodam and Tanakpur, the two nearest railheads. Pithoragarh has a small hill airstrip at Naini Saini, 5 km from town. If you are driving in from Delhi, breaking journey at Kathgodam or Nainital is convenient. Almora and Bageshwar are the main gas refueling halts en route.
Best time:
The months of March to June and mid-September to October are ideal for visiting Pithoragarh, while July to early September is the rainy season. Light woolens and rain protection is needed in summer, while heavy woolens are called for in winter.