Ranikhet (The Queen's Field) has come to be known so because according to popular belief, this spot had won the heart of Rani Padmini, Queen of Raja Sudhardev and she chose this scenic spot to be her abode. To view nature & its elements in full harmony, the right place to be is Ranikhet. It is the place which wonderfully mirrors the best of the heavenly Himalayas offering excellent views of the snowcapped Nanda Devi (7817m), lush green forests, delicate plant life and attractive wild life.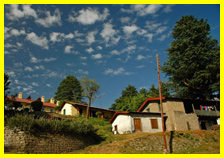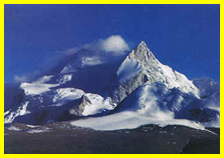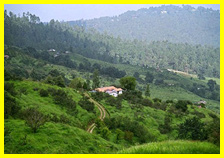 At on altitude of 1829m, north of Nainital (61 km) and well connected to Almora (44km) & Kathgodam (83km), Ranikhet ( km) has emerged as a favourd all season destination. During the rains, flowers sprout up everywhere in rainbow colors, branches of trees stoop with ripened fruits & sunlight peeping through the mist & clouds endow an enchanting effect all across Ranikhet.
As winter comes, the softly falling snow flakes cover the environs in sheets of pure whiteness. The 1869 the land was bought by British from local villagers and a summer rest & recreation settlement was set for British troops. Today it is an important army town and the head quarters of the Kumaon Regiment.
There are many enjoyable walks, picnic spots, exciting treks and 6km from the town, Upat, has one of the best mountain golf links (9 holes) in the country surrounded by dense oak forest. The Museum &c the Memorial are the jewels of Ranikhet.
Places to Visit


Jhoola Devi Temple
This secluded temple dedicated to Durga has beautiful bells, echoes of which can be heard from some distance. Nearby is a temple of Lord Rama.
Chaubatia
Chaubatia is a vantage point set amidst gardens. The Government Fruit Research center is located here. On a clear morning a 300 Km wide view of the snow - clad Himalayan peaks can be seen clearly from Chaubatia, 10 Km from Ranikhet on a motorable road. The Nanda Devi, Trisul, Nanda Ghunti and Nilkanth peaks are very clear. Bhaludam, 3 Km from here, has an artificial lake.
Upat & Kalika
Situated on the road to Almora, Upat has a 9 - hole golf course, while Kalika is famous for its Kali Temple and forest nursery.
How to reach There
Air : Nearest airport is Pant Nagar, (119km)
Rail : as with the other hill stations in the Kumaon Region, Kathgodam (83 km) and Ramnagar (96km) are the nearest railheads.
Road : Ranikhet is connected by road with all the major towns of the region. There are regular buses to Almora, Nainital & Ramnagar operated by KMOU & State Roadways, - 20643. It is also well connected to Delhi (279km), & Haridwar (254 km).