Almora, a picturesque district in the Kumaun region, East of Uttarakhand in India, with a breathtaking panoramic view of Himalayas, summons tourists worldwide to its alluring grandeur of natural beauty. Almora is also call it the 'Switzerland of India'. Almora famous for its rich cultural heritage, unique handicrafts, sumptuous cuisine and magnificent wildlife, coupled with an easy accessibility, Almora promises its tourists a visit full of fun and unforgettable moments. Almora is a beautiful scenic place situated at an altitude of 5900 ft.
Almora is also referred to as the unspoilt child of nature. It is situated on a three-mile long horse saddle-shaped ridge and is surrounded by four hill ranges - Banari Devi, Kasar Devi, Shayahi Devi and Katarnal. The three peaks have temples of Goddesses while Katarnal has an ancient Sun temple worth visiting.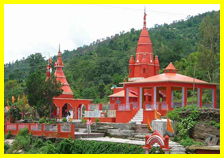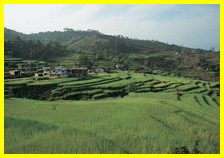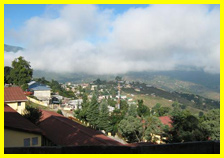 History of Almora :
Almora was the capital of the Chand dynasty, which ruled Kumaon for more than one thousand years. One remarkable fact about Almora is that while almost all hill stations were discovered and developed by British, Raja Kalyan Chand founded Almora in the year 1568 when he transferred his capital from Champawat to Almora.
Legend has it that about 500 years ago Raja Kalyan Chand, then the ruler of Kumaon with its capital at Champawat, was riding hard in pursuit of prey on this horseshoe shaped spur. The hunted quarry saved itself by taking refuge in a thicket of Kilmora - a wild bush - and revealed to the royal hunter the site of his would-be capital. The origins of settlement in Almora may have been different but the story continues to hold sway in the minds of many of the locals. Bounded by the Kosi and Suyal rivers, the local of the new capital was well suited strategically. Till the Gurkha onslaught, in the last decade of the 19th century, Almora remained well protected naturally.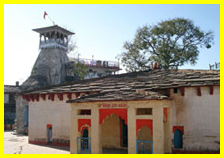 Facts & Figures of Almora:
Population 30, 613
STD Code:
05962
Rainfall:
82 cm (37") average
Area:
11 sq. km (city Area)
Best Season:
April to June and mid- September to October
Excursions of Almora :
Nearby places of tourist interest where an excursion can be made within a day are Bright End Corner's unforgettable sunset, Chitai temple with it's unique collection of brass bells of all sizes, gifted to the temple by devotees since centuries, Kasar Devi which houses many Europeans who fell in love with the place so much that they settle down, Nanda Devi Temple the cultural and religious center of Almora for now hundreds of years and Lala Bazaar a unique market of more than two hundred years with paved streets of stone.
Bright End Corner:
Almora is 2 kms away from here. A highlight of this point is the sunset and the sunrise seen through the Himalayan peaks. A circuit house close by allows tourists to spend some time in this peaceful surrounding. Close by is the Vivekanand Library which has many books on literature. A little away is the Vivekanand Memorial where Swami Vivekanand had stopped for a while on his journey to the Himalayas.
Martola:
This picnic spot amidst gardens is 10 kms away from Almora. Most of the people who live here are foreigners. Buses and taxis come up to a point called Panuwanaula and from there onwards one has to walk.
Kalimutt :
4.5 kms from Almora, this picnic spot gives a lovely view of the Himalayan Peaks.
Deer Park:
3 kms from Almora this park is in NTD (Narayan Tiwari Dewai).
State Museum :
This museum is near the bus stand . It is closed on Mondays and other Government Holidays. It is open from 10:30 A.M. to 4:30 P.M.
Simtola:
3 kms from Almora Simtola is a picnic spot from where one can view the beautiful mountains covered with pine and deodar trees.
Chitai Temple:
This is a very busy area. This temple is dedicated to Lord Golu. The people of Kumaon worship him. Once a wish is fulfilled people hang little bells in this temple. Therefore there are thousands of little bells hanging there. The view of the Himalayas is extremely beautiful from here. This temple is 8 kms away by walk through a beautiful pine forest, but one can go by cart too.
Katarmal:
This 800-year old Sun Temple is the second in importance after the Sun Temple of Konark in Orissa. Seven kms away from Almora this historical important temple is an example of intricate sculpturing. This temple is in need of restoration now.
Binsar:
30 kms from Almora Binsar has a temple of Shiva who is also called Bineswar. 2412 mts above sea level this temple was constructed by King Kalyan of the Chand Dynasty. Visiting this temple gives one peace of mind.
Jageshwar :
34 kms away from Almora this temple of Shiva is situated amidst a dense Deodar forest and has a lot of mythological importance. Here there are about 164 temples of this kind.
Nanda Devi Temple: 
This 1000-year old temple is one of the main attraction of Almora. Its walls have carvings on them. Every year a festival is held here in which youth from various mountainous areas come here to participate in this dance festival.
Gannath:
47 kms from Almora this is an ancient Shiva temple with natural caves. 2116 mts above sea level this place is a favourite with nature lovers.
Kasar Devi : 
Near Kalimutt is the temple of Kasar Devi. This ancient temple was built on a mountain peak in the second century. The distance between Kalimatt and Kasar Devi is less than 1 km and can be easily covered by foot. The surrounding area has become the home of many foreigners. The main town is 6 km away.
Around Almora
Almora, is surrounded by many sightseeing places. Binsar hill, locally known as Jhandi Dhar, rises to a height of 2,412 meters and offers a panoramic view of Almora town, Binsar, is an hour' s motor drive from Almora, the Kumaon hills and the Greater Himalayas. The region around in alpine flora, ferns, hanging moss and innumerable species of wild flowers. The brow is reached by an unpaved ridge lined by prosperous private estate. A walk through the woods comprising mostly oak and rhododendron forest, leads to a vantage point at the summit, which offers an uncluttered view of the Himalayan ranges and the surrounding valley. Hindi poet Ajneya treated it as a famous summer spot.
How to reach Almora
By Road :
Almora is well connected with all-important cities of India by road.
By Air :
The nearest airport is a Pant Nagar (Nainital). During the summer regular flights are operational.
By Rail :
The nearest railway station near Almora is Kathgodam.
Distance from Almora :
Lucknow (466), Dehradun (412), Nainital (71), Delhi (382), Bareilly (205), Kathgodam (90), Pithoragarh (122), Haridwar (357), Haldwani (96).